HOW-TO: Turn Your Quad Into A Flat Track Racer
In the spring and fall months, desert, MX and XC racing dominate the headlines. However, when summer rolls around and temperatures rise up, these guys take a break from the action. This gives way for dirt track racing to take center stage. Dirt track events typically take place at night, in front of big crowds, and on small, tight tracks at great venues throughout the country. On the ATVA National scene, there is a full field of pros to watch and plenty of amateur classes to enter yourself. Here is a little break down of what it takes to build a competitive Pro flat track racer.
Steps one through three are all you need to enter your first race or practice section. Beyond that, changes become more exclusive to this type of riding and require a bigger budget and commitment. However, if you have a good local track close by or ride well in front of big crowds during a larger event, we think you will be hooked and should look more seriously into building that top-notch race machine.
STEP ONE: SWAY BAR
After you outfit your machine with the mandatory safety items, such as nerf bars and an ignition tether, adding a front sway bar will start your transformation. A sway bar basically connects the right and left A-arms together to improve cornering speeds. Rath Racing has the most popular sway bar ($395), and it actually incorporates a flexible torsion bar that helps transfer weight better and has a little give over the bumps. All brand sway bars use adjustable connecting rods that are used to do the tuning. Typically you want a light attachment between the sides on loose and soft terrain and a stiffer setup for tacky, high-grip surfaces.
STEP TWO: TIRES
At most tracks, your stock knobby tires will grip like a bowling bowl on an ice rink. Several manufacturers are offering dirt-track tires for ATVs this year. American Racing, Hoosier, Duro and Maxxis are some of the most common brands used on the flat tracks and Supermoto circuits. Instead of concentrating on tire patterns here, choosing the right rubber compounds will help you get to the front. Keith tells us depending on track conditions, pressures are typically the same in the front and rear, ranging from 8–10 psi. In most cases, new rear wheels will be needed to mount the tires on, which are commonly a larger-than-stock, 10-inch size. The harder the surface you are racing on, the softer compound tire should be used. If the track is loamy or sandy, harder compounds can be used, and typically the tread groves need to be more aggressive.
STEP THREE: A-ARMS
Like in most forms of racing and aggressive trail riding, wide A-arms are a big improvement. To outfit our machine, A-arms that accept stock-length front shocks like our newly released
TerraFab Performance A-arms
are what to look for. We can also add sway bar tabs to our A-arms by request so you dont have to fumble with those added bolt-on brackets. Wheel spacers are an option for budget-minded racers, but keep in mind the turning geometry will be affected, and it's usually not for the better. The rear end should be widened at this time, too, with an
extended axle
or at the very least with wheel spacers.
STEP FOUR: SWINGARM
The advantage of shortening the swingarm will give you more weight over the rear tires for a better drive off of the start and out of every corner. Companies like ours, TerraFab
Swingarms
build them($410) for this application. We don't recommend you shortening your stock swingarm, due to the weakening of cutting the swingarm and rewelding it will cause the integrity will go down and the potential of cracking or breaking. On the featured Honda race machine in the pictures, we would recommend running swingarms 1 1/2 to 2 inches shorter than stock and mabee into the -3" or -4" if possible for ice racing. A good aftermarket swingarm like our
Negative Length Swingarms
can be built with a no-link setup. Removing the linkage can help lower the machine some and save weight. A small reduction in wheel travel is not a handicap in this form of racing, but weight is.
STEP FIVE: SHOCKS
Adjustability becomes very important if you get serious in this sport. Dual- and triple-rate springs help keep the ride height lower without interfering with shock action. A rule of thumb is, ride-height measurement should be right at 5 inches (from the bottom of the frame to the dirt). When choosing a shock, again, consider weight. Piggyback shocks are typically lighter than those with remote reservoirs. Having low-speed adjustment is crucial to helping keep the quad from squatting under acceleration or nose diving under hard braking.
STEP SIX: ENGINE
With all of the added traction on a dirt-track machine, it's easy to tell when you are underpowered. Typical performance hop-ups maybe necessary to get you out of the beginner class. Passing is very difficult, so having lots of power and getting the holeshot will give you a big advantage. You want a smooth power band with the more top end and over-rev that can keep you from having to make an extra shift just before the next corner. Shorter mufflers can help create that top-end power and help save even more weight. We dont have it on our website but we shorten mufflers by request. On today's four strokes, you may also want to eliminate the heavy engine braking. Both Hinson and Rekluse have "slipper" clutches ($1675) that will do just that. Also, keep in mind standard clutches take a beating in this type of racing. Barnett is a good source for quality stock-replacement components.
STEP SEVEN: CONTROLS
As much as you need to go fast, you want to be able to slow down just as quickly.
Steel-braided lines
, hi-temp brake fluid and
performance rotors
are all good starting points. More performance can be added with dual-piston calipers and high capacity reservoirs. We build custom steel caliper brackets in case you want to mix caliper components from brand to brand or go with oversized rotors. An
adjustable clutch lever
is important in this environment. Clutches heat up, so having the ability to adjust freeplay on the fly can help you later in the race. You can start out a race with as much as 1/4-inch free play in his lever. ASV offers the best adjustable clutch and
front brake levers
.
STEP EIGHT: SUBFRAME
Moving as much weight as possible to the center of the quad is the goal of any serious racer. And regardless of size, the rider is the heaviest component of the package. Lowered subframes can bring the rider's weight lower to the dirt (TerraFab Subframes coming soon). QuadTech makes lowered seats and covers with less foam, along with more grip. You can trim the foam on an ATV yourself too. A long carving knife or electric bread knife works the best for the job. Trim the foam following stock contour so the seat cover will reinstall cleanly. Local upholstery shops can do the work for you if needed.
STEP NINE: LIGHTS
More weight savings can be found all over your race machine. Up to 10 pounds can be saved by removing the headlights, brake lights, and wiring and bracketry. A small dirt bike kill button can be used to replace a starter button that is usually connected to the big light switch cluster. Parking brakes and the heavy support cables and hooks can be eliminated. If you can, avoid adding unnecessary
parking brake block-off plates
or other billet-aluminum, ignition-timing plugs, reservoir covers, and throttle housing caps. Fenders can be trimmed and some braces can be removed. A few ounces can be saved here, along with cutting down the wind resistance on those long straightaways.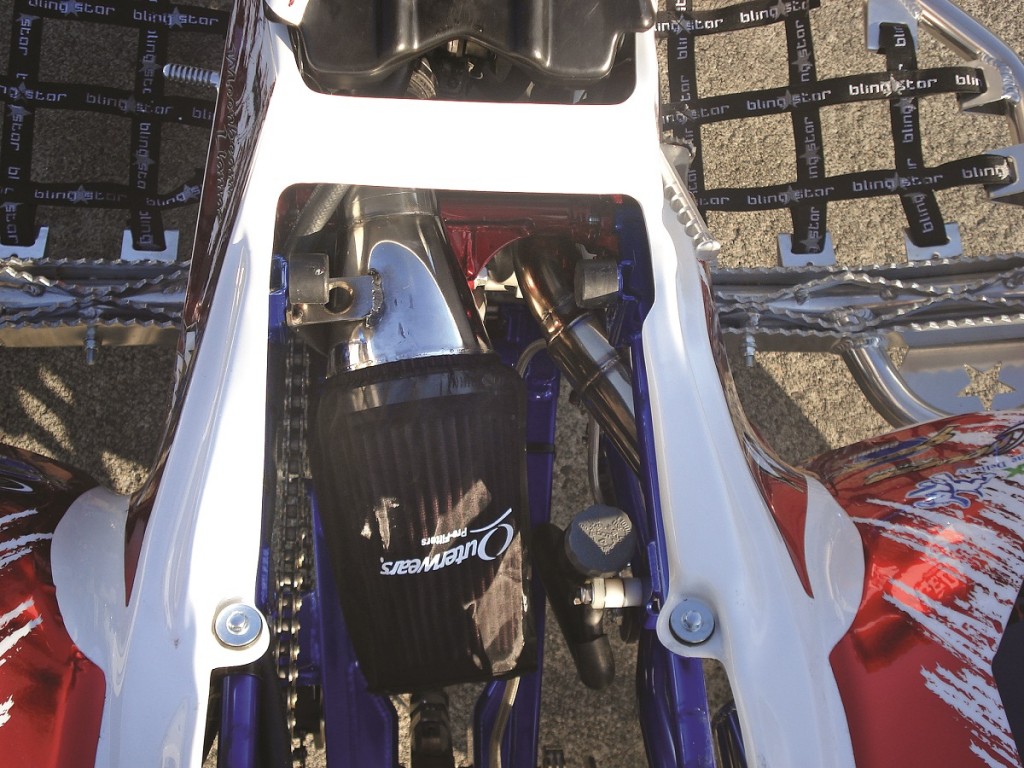 STEP TEN: WEIGHT
Finding additional weight savings can turn into an interesting quest when building this type of machine. Companies like TekBolt sell fastener kits that have smaller, lighter heads. Precise-length bolts are a smart way to assemble things. When building his race machines, Little would shave off any excess bolt threads sticking out beyond their nuts. Renthal sells aluminum rear sprockets that are significantly lighter than stock, and their countershaft sprockets have holes drilled in them for considerable weight savings. On some machines, you can change your lug nuts out for smaller units. If yours requires a 17mm socket, it's possible to find smaller nuts that only require a 14mm socket. Titanium fasteners are also used, but keep in mind the dollar investment may not be quite worth the savings in weight
---